Looking for professional auction software that gets results?
As an online auction software provider for professional auctioneers all over the world, our professional auction software is known for delivering excellent service and favourable auction results. Many well-known auction companies trust us to support daily auctions. We sit in the background to do a little or as much as you require.
Featuring the latest in web technologies, our software provides auctioneers with the ability to conduct full timed, webcast and fixed price sales from their own website.
It's been built using the latest technology . One example is bidders no longer need to download apps to bid. The platform offers a flexible and scalable solution that is designed to maximise profitability for your business.
It's white label and runs on your website. Your new auction portal will be stylized in your brand's colours and logos, the auction platform places your business at the forefront of each and every interaction a customer has with your brand whilst using the system. With the spotlight on your brand, you would expect that any auction system would reflect the professionalism and competencies of your business.
That's why we have designed a platform that is very feature-rich but built to be user-friendly features to create an immersive online auction environment for all parties involved.
Our professional auction software is widely used across many auction verticals including collectables, industrial, automotive, agriculture and general auctions.
A feature rich, immersive platform that scales with your business
Timed auctions enjoy the option to place maximum bids, receive email outbid notifications, and to experience lot staggering and bid extension functionality. Outbid notifications and messaging can be tailored for email alerts.
Our smart filtering system makes browsing for lots through the system much easier and quicker for bidders.
Live streaming webcast auctions can now be streamed in full HTML HD video with pre-bidding before and during the auction. In-room screens add to the visual excitement of a live auction.
Fully supported, easy to manage
Management of online auctions is easy with full accounts, sales, bidder and invoicing management found right inside the platform.
Each client is allocated to their own personal account manager, who knows the system inside and out. Whilst our system equips you with a full suite of online auction management tools, our professional team can assist with managing any aspect of support, marketing, training or clerking assistance.
For a full suite of online auction tools to have at your disposal, look no further. Continue your online auction journey with a platform that's designed to grow with you and your business.
Online auction solutions for your business
🎥 Live Webcast Auctions
⏳ Timed Online Auctions
📈 Marketplace
👩‍💻 Remote Clerking option
✅ Everything you need & will run from your own website
🏷 White Label Auction Software – 'value protect your bidders & IP' ( Not a group site
)
So modern works on all devices without frustrating bidders to download apps
🧑‍💻 Includes Setup, Training & Local Ongoing Support
🧾 Auction invoicing & reporting
🖥 Websites & marketing
😊 Simple for bidders and powerful for auctioneers
So ready to get started?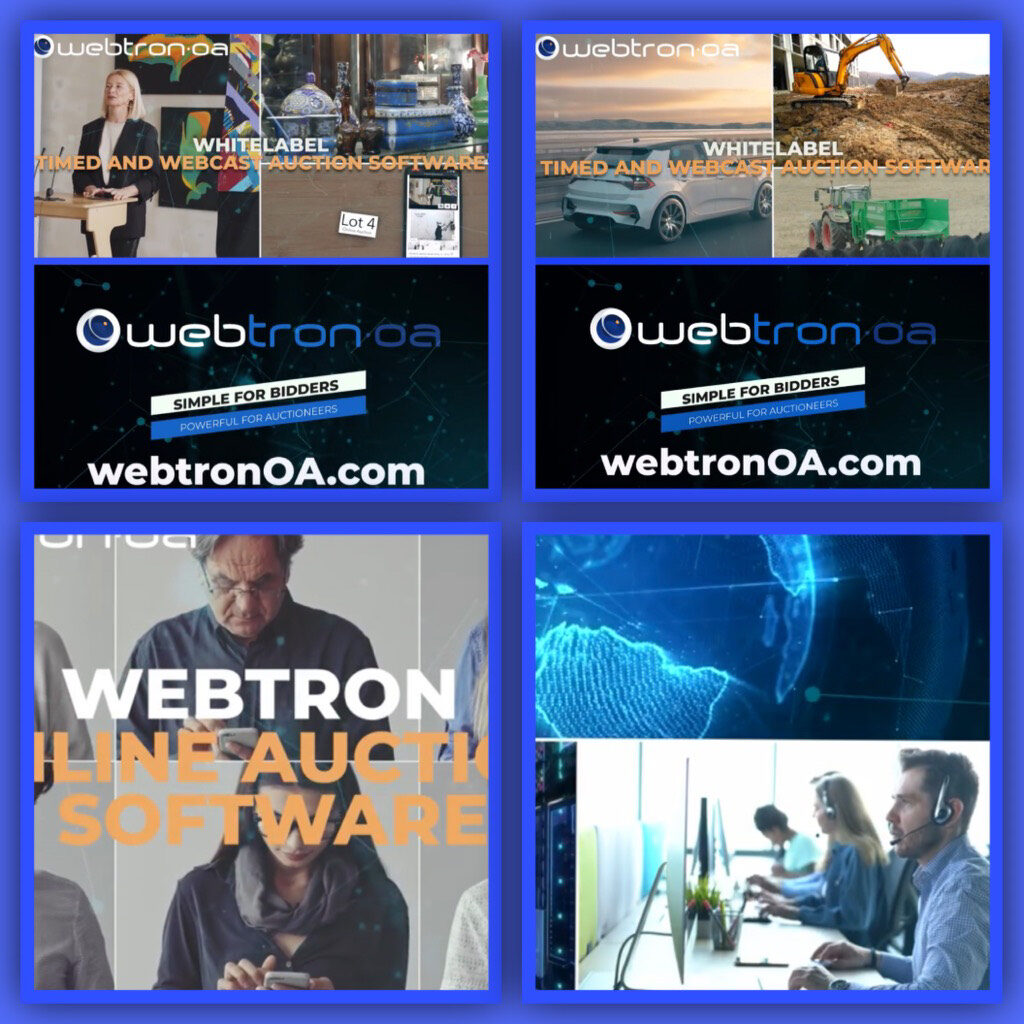 The New Webtron 7.0 Auction Software is here
There has never been a better time to upgrade your online auction software to Webtron's 7.0 newest auction software release.
Take advantage of a white label auction solution that runs from your own website. It has been designed for Professional auctioneers like you to take your online auction business to another level.
It's 'Simple for bidders and powerful for auctioneers'.
Please get in touch and arrange a demo for your business.
We would love to share more about our professional online auction software solution. So please get in touch below.